Examguide The Best Jamb Utme Cbt Software And Past Questions Practice App
As Joint Admissions and Matriculation Board have completely switched to Computer Based Test for Unified Tertiary Matriculation Examination (UTME), preparation with the right tools at your disposal can make all the difference. Introducing ExamGuide JAMB UTME CBT SOFTWARE, an application meticulously crafted to empower students to not just prepare for JAMB UTME but to excel with confidence and Get High Score. Let's delve into how ExamGuide stands out, meeting your needs for JAMB CBT PRACTICE software, JAMB Exam practice app, and JAMB UTME comprehensive past questions and answers application.
Pass JAMB UTME in One Sitting with ExamGuide – Download ExamGuide JAMB CBT app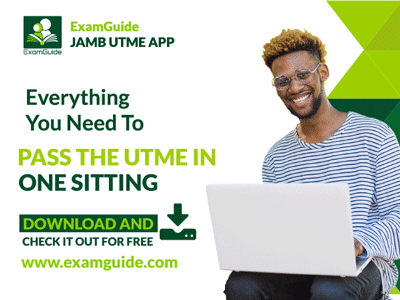 Mind Blowing Features Of The Examguide Computer Based Test Software
Robust CBT Software Engine
ExamGuide goes beyond the ordinary; it's your JAMB CBT software of choice. The application provides a realistic Computer-Based Testing environment, ensuring that you are well-acquainted with the format of the actual JAMB UTME. ExamGuide JAMB CBT App is specifically optimized to mimic the real JAMB UTME Exam with seamless performance on Windows and Android platforms. The application is regularly updated to align with any changes in the JAMB exam format, guaranteeing that you are always practicing with the most relevant materials. The user-friendly interface makes navigation a breeze, allowing you to focus on what matters – mastering your exam content. 
Dynamic Practice App

:
Practice makes perfect, and ExamGuide UTME is your dedicated JAMB practice app. Tailor your practice sessions by selecting specific topics, enabling you to focus on areas that you need more attention paid to. ExamGuide JAMB app is very flexible, allowing you choose your study method from the 3 available modes. Practice mode, study mode and mock mode. You can decide number of questions, time and year of practice. The answers come with detailed explanation making it a complete study material. The insightful result analysis gives a lot of details about your performance suggesting area that needs your focus.
JAMB UTME past Questions and Answers

:
ExamGuide takes your preparation a step further with an extensive collection of real JAMB exam past questions and answers with detailed explanation. Covering over 20 years of exams, these resources give you a valuable insight into the exam patterns and help you identify important topics. In addition to the exam past questions, we created numerous syllabus based questions to ensure that ExamGuide app users does not face any question that they have not come across in the application. ExamGuide UTME is not just about practicing; it's about practicing smartly with a strategic approach.
Class room with a Smart Study Assistance

:
Worried about a concept or topic? ExamGuide introduces an AI-powered tutor, ready to assist you. Simply chat with the AI teacher, and receive detailed explanations to enhance your understanding. It's like having a personal guide for every challenging concept. In addition we have syllabus based study materials covering the entirety of the exam scope. ExamGuide users have access to these materials to study with. There is also exercise at the end of each study materials with detailed explanations. This is different from the practice questions. ExamGuide can be a complete stand-alone study material for the user.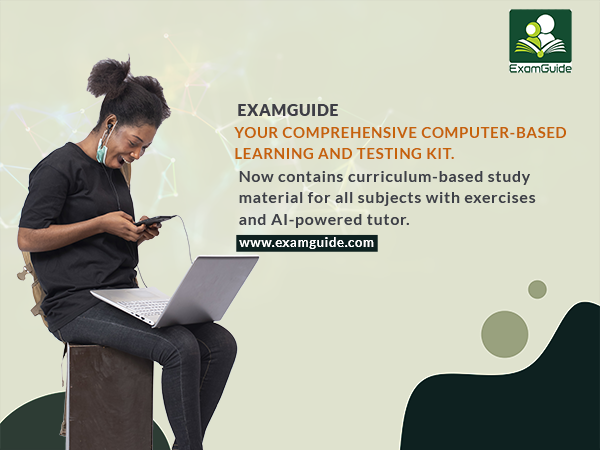 Educational Games

:
In order to make learning fun, we designed educational games that can be used during resting or leisure. The games are MAP, MILLIONAIRE and FAME. The content of the games apart from map is still real JAMB exam past questions rendered in a fascinating way. Map games will help you grasp Geography perfectly. Learning should be fun.
UTME Challenge
ExamGuide app users participate in a weekly competition towards the UTME called ExamGuide UTME Challenge. This competition is designed to encourage practice using the application. You compete in mock organized by ExamGuide team amongst your peers and stand the chance of winning handsome cash prices if you come out amongst the top scorers. The competition has several rounds and we award prices at the end of each round. In addition we offer a final award of N100, 000 each to the top 5 candidates at the end of all rounds. This is determined by adding your best round score to your JAMB UTME Score.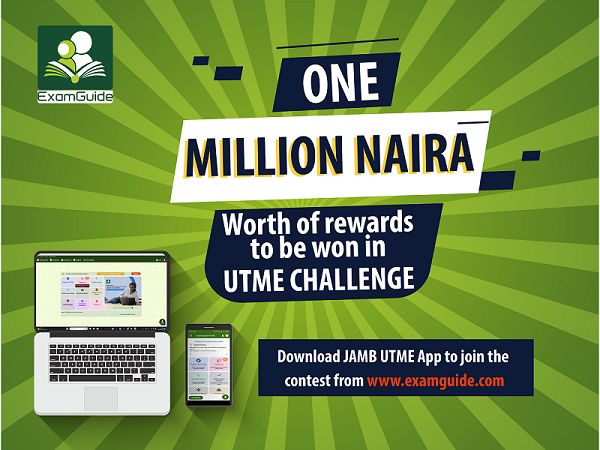 Affordability and Accessibility:
ExamGuide is not just a tool for the elite; it's accessible to all. With a cost-effective pricing model, you get high-quality preparation without breaking the bank. Plus, ExamGuide operates offline, eliminating the need for constant internet connectivity. Activate once and enjoy application for the device life time. There are no hidden charges.
Scale up you studies and elevate Your JAMB UTME Journey with ExamGuide jamb practice software.
In a sea of JAMB study applications, ExamGuide JAMB UTME APP emerges as a comprehensive solution tailored to meet the unique needs of ambitious students like you. From serving as your go-to JAMB CBT software to offering dynamic practice sessions and housing a rich repository of past questions and answers, ExamGuide is the catalyst for your JAMB UTME success.
Embrace the power of ExamGuide JAMB UTME past questions app, and transform your JAMB preparation into a journey of mastery and excellence. Start your high-scoring adventure today!
ExamGuide LearningHub
This is a platform that connects learners to quality tutors. It is a completely free LearningHub aimed at providing students access to free quality tutorial videos to guide them in gray areas of their studies. This platform will be highly beneficial to persons preparing for JAMB UTME, WASSCE, GCE, BECE, COMMON ENTRANCE etc.
The video tutorial lessons covers the entirety of Nigerian primary to secondary school education curriculum in details and can be accessed completely free of any cost from ExamGuide website. Go to additional resources and click on LearningHub.