Sports: An Avenue Of Escape For The Average Nigerian
Growing up in Nigeria, most children adopted sports without even having a choice. Parents bought plastic footballs for their toddlers as soon as they could walk, children began to test their athleticism among their peers, these children were the ones that grew up into the sports lovers we see all over the country.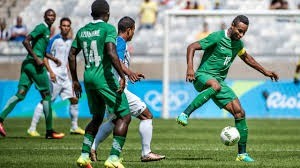 From many middle- and lower-class families, the kids utilised sports as a means of escaping from their everyday realities. Kids born into these families started to form tight-knit groups with members of their age group with whom they participated in similar sporting activities, with an adult at the head of the group. It was therefore unsurprising to see these kids choose to fashion a career out of these sports as they improved themselves.
For this reason, Nigerians have had the most success in sports with Nigerians representing the country in almost every corner of the world at different sports. In football, Nigeria's Under 17 team has won the world cup more times than any other nation, while also producing stars who flew the flag high all over the world such as John Obi Mikel, Wilson Oruma, Jay Jay Okocha, Kanu Nwankwo, Sunday Oliseh, and Vincent Enyeama, among others. We have seen the likes of Segun Toriola and Aruna Quadri in table tennis, Efe Ajagba, Samuel Peter and Bash Ali in boxing, Asisat Oshoala, Desire Oparanozie and many others like them.
Sports became more than a hobby; it became a way to escape poverty for a lot of young Nigerians. Groups of young boys and girls began to make their way to sports centres where they worked under the guidance of coaches who trained them to be the best.
Recently however, sports have transcended being just a hobby or an occupation to being a source of money to many with the introduction and widespread increase in sports betting platforms, such as NetBet Nigeria.
People now win thousands, tens of thousands or even millions of Naira by betting on NetBet and from other betting platforms with subscription amounts that vary based on what you want.
These platforms have been used by many young Nigerians to either complement their income or as a primary source of income.
With as low as 100-naira, one can win thousands of Naira if they play their cards (or numbers) right with betting platforms such as NetBet allowing you to choose your own reality. Even in 2020 when the COVID-19 pandemic ground all sporting activities to a halt, people still made money by betting on NetBet virtual sports.
Beyond the good side of sports in Nigeria, there is also a flip side. Many youths turn to drugs to enable them to perform at high levels. This drug use sometimes turns into drug abuse, causing more harm to these young people over time.
Many of these youths also get exploited by some dubious people who take advantage of them. Want to venture into sports? It is one of the best and most profitable professions there is, but it has its own pros and cons that need to be carefully weighed. Look carefully at both sides before deciding.